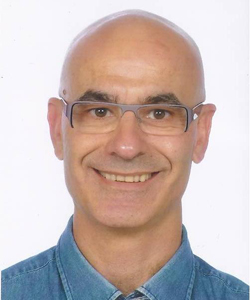 I began my professional career as a manual therapist in 1993. I studied spinal rehabilitation within the chiropractic degree, and am certified in various specialties:
Master in chiropractic
Specialized techniques in manual therapies
Recovery of function
Reflexology
Lymphatic Drainage
Auricular Therapy
Finally, 5 years of osteopathy, which includes all of the knowledge and material to put therapy into practice. I collaborate with sports organization in football, golf, tennis, etc. I work with leisure organizations: campgrounds, hotels, scuba diving centers, etc. I participate actively in Expo-massage.
Currently, I am doing osteopathic research in:
Pediatrics
Pre-menstrual syndrome
Problems in ATM
Currículum Vitae
1993
Spinal re-education
Chiropractic
1994
Lymphatic drainage
Sports massage
Reflexology
1996
Master in Chiropractic
Specialized techniques in manual therapies
1998
Osteopathy
Technical Certificate in Osteopathy (TD)
Current
Continuing superior studies in osteopathy
Research in applied osteopathic treatments
Personal Statement
Working with the art of manual therapy is not easy, it requires a high degree of intuition and vocation.
A therapist can not claim to be both a manual therapist and a trucker, mechanic or restaurateur…. Our working tools are our hands, clean, smooth, strong, which transmit our energy and intuition (wisdom) to help solve problems in the muscles, tendons, ligaments and joints. I myself was an electrician / mechanic. I knew manual therapies, but
never thought that one day my destiny would change radically.
One day I went to see a man from Peru who did Spinology, and thanks to his help I´ve never again had torticollis (stiff neck). The best was when he told me he wanted to teach Spinologia. My immediate thought was "if he has helped me why can´t I help people?" So this gentleman from Peru became my first teacher.
THANK YOU CHAMORRO
During my first year of training I combined work with learning Spinology, a technique based on spinal reeducation. That worked up to then, but when the time came I decided to make the best change of my life, to leave everything to be a manual therapist. I made this change 17 years ago, in my youth, and I had a lot to learn and a lot to give, with many studies, helping many people with difficulties, most likely from bad posture, old and recent injuries, tension at work, etc. First as a spinologist, followed by work as a massage therapist, reflexologist, Lymphatic drainage specialist, naturopath (without practicing as such), later as a technical specialist in sports injuries, and finally as an osteopath in its three major branches: structural, visceral and craneo-sacral. A panacea? No!!! But that is the work that I identify with most, where I think I can reach with more maturity.
Finally thanks to all my patients who for all these years have given their vote of confidence to my work.
Martí Puig Perdigó